Best Magento 2 Image Optimizer
Accelerate page loading, improve SEO, and increase sales conversions by adding ImageEngine image CDN for Magento 2. With easy changes to your Magento settings or using our plugin, you can automatically compress all images up to 80% and deliver them via our mobile-optimized CDN.
Start your free trial today, no credit card required.
Start Free Trial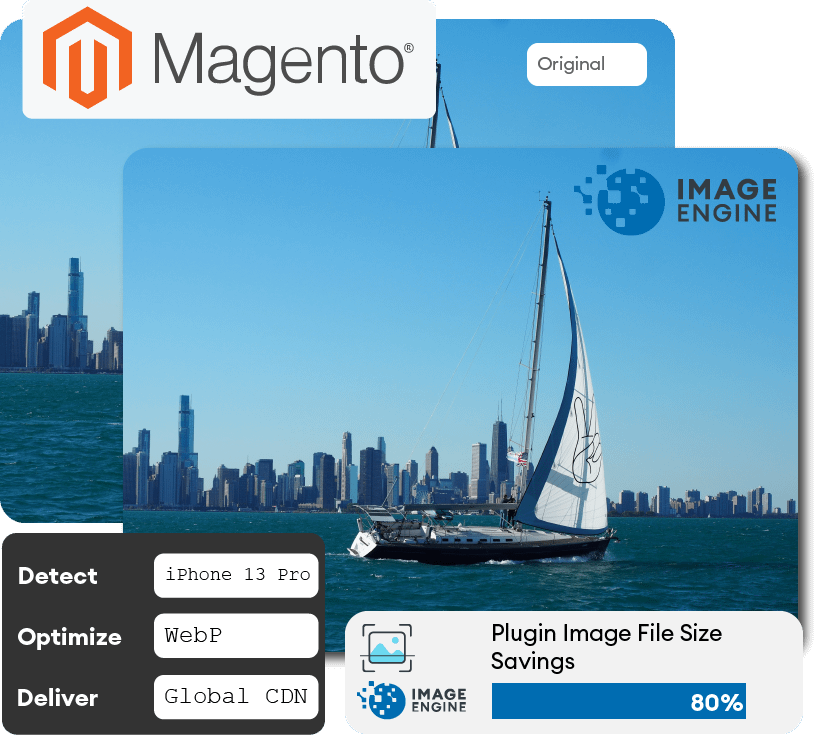 See ImageEngine in Action
Want to see what ImageEngine can do for your site - right now? Use our simple Demo Tool to check out our speedy image optimization in action on any webpage.
RUN DEMO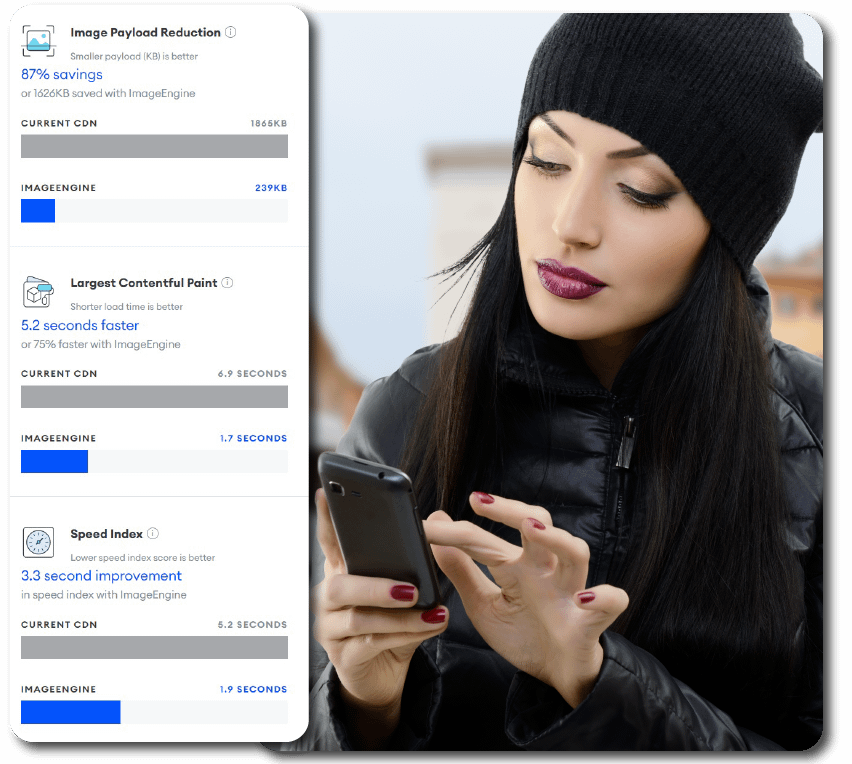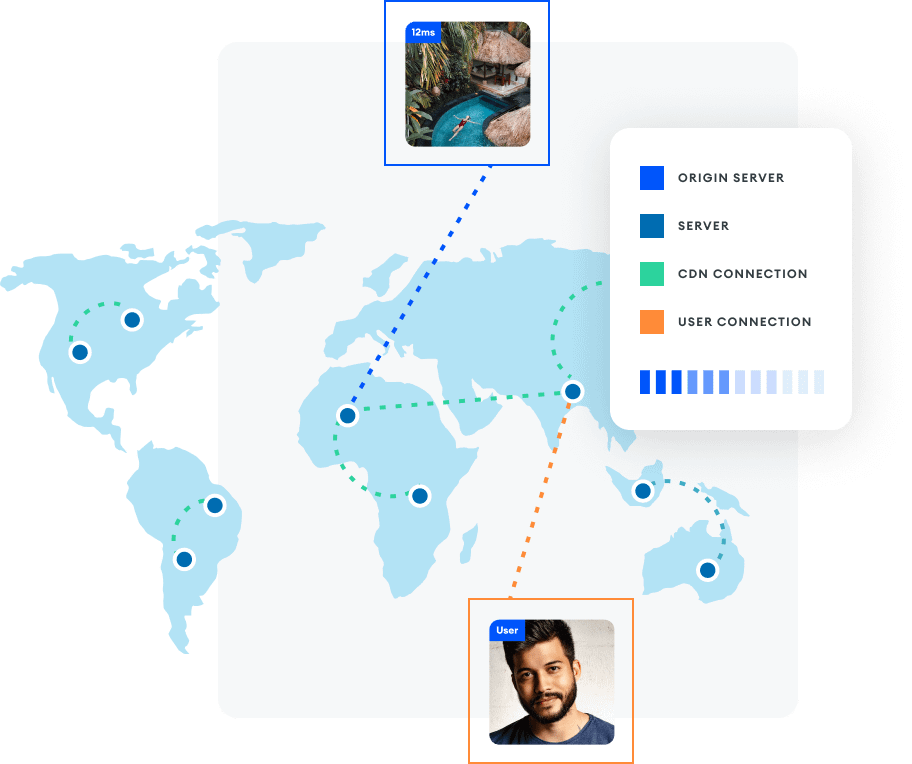 What is an Image CDN?
Learn more
Detect Mobile
Detect smartphone's model, OS, screen size, PPI automatically on mobile for better optimization.
Load Faster
Reduce page load times. Faster websites improve sales conversions, UX, and SEO.
Optimize Images 80%
Compress, convert to next-gen format, and deliver 80% less image data from our global image CDN.
Why Choose an Image CDN?
ImageEngine's image CDN provides faster page loading, Largest Contentful Paint, and Speed Index. This acceleration improves your PageSpeed Insights score, drives higher SEO ranking, and delivers a better user experience. Image optimization is 80% better than traditional CDNs, resulting in superior image quality and compression, which translates to more Time on Site for your visitors and more conversions for you.
Learn more
More Ways an Image CDN for Magento Can Help Your Site
A standard content delivery network (CDN) is a global network of servers that optimizes web performance by using the node closest to the user for faster delivery of assets.
A traditional Content Delivery Network (CDN) improve performance by reducing the geographic distance between website visitors and website servers. By staging content closer to the visitor, the CDN can deliver faster, reduce latency, and avoid long trips back to a single origin server that might be on the other side of the globe.
By default, Magento doesn't provide a CDN, however on Magento's cloud version it provides a CDN through Fastly's CDN. For better web performance and image optimization up to 80%, you will want to add an image CDN like ImageEngine. On the admin panel, under Stores, you can modify the configuration to add or replace existing CDNs.
In contrast, ImageEngine is a global image CDN. It builds upon a traditional CDN's geographic proximity approach, but it also adds two innovative improvements. First, each edge server on an image CDN has device detection. ImageEngine's edge servers instantly identify the device model and browser requesting the images. In addition, device detection also provides information critical to the image optimization process: screen resolution and dimension, pixels per inch, support for WebP, AVIF or JPEG 2000 (JP2) image file formats.
The second improvement is adding image optimization to the CDN process. When an image is requested for the first time, ImageEngine will pull the original image from the website's storage (also called the "origin"). It will then resize, compress, and convert the image into a file format that is optimal for the specific device and browser. For example, for an iPhone 13, the image optimization will typically resize, compress, and convert to the WebP format and reduce the image payload by up to 80%. All of this is done with no perceptible impact on quality. The next time the same device model requests the image, it is already in cache ready for instant delivery from the edge server.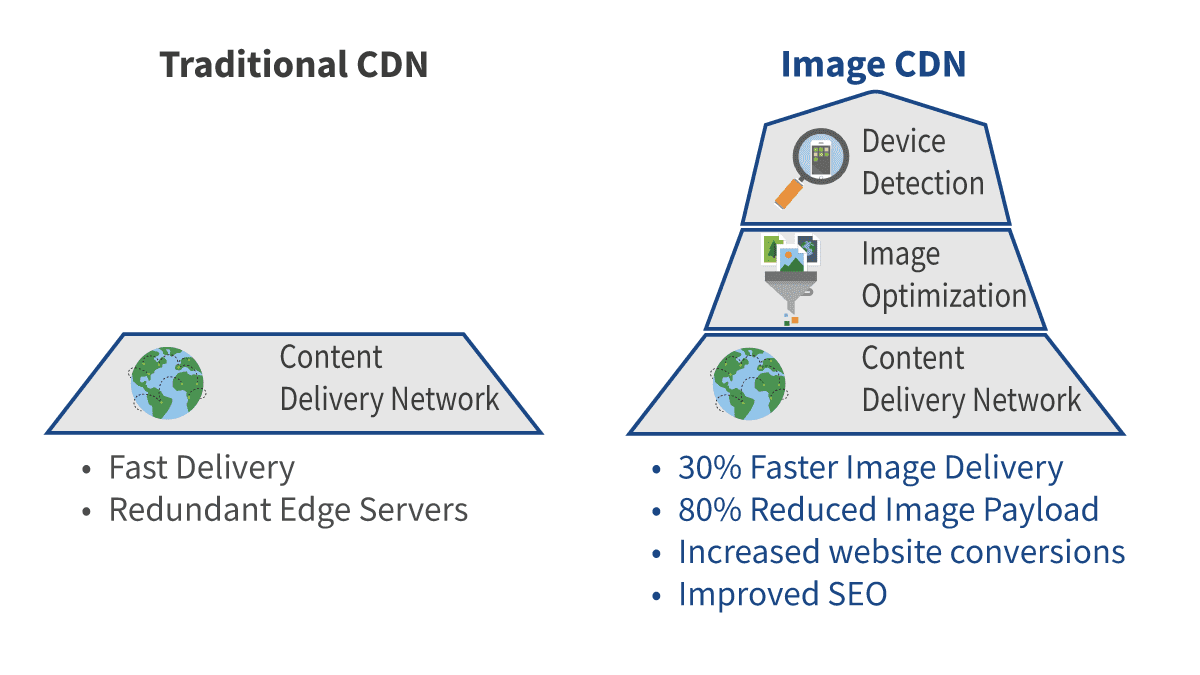 Magento 2 sites can achieve even better performance with an image CDN like ImageEngine than with traditional CDNs. In contrast to a traditional CDN, an image CDN adds device detection and image optimization prior to delivering images from the CDN. A Magento 2 CDN with ImageEngine decreases image payload, delivers images tailored exactly to each requesting device, and instantly sends images from the edge of the network. The result is faster page loading that drives higher SEO ranking for your Magento 2 website and better user experience.
Get a demo
Test your site with our ImageEngine demo tool and see what improvements can be made.
see demo here
Start for free
Try ImageEngine for 30 days - Up to 100 GB of Smart Bytes included.
start free trial